Upcoming Gold Member Events: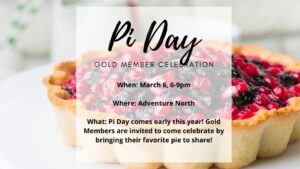 Join the Adventure Brewing Gold Member Club, our annual membership program, to get special discounts on merchandise and your favorite beer.
Become a Member Today!
This annual membership comes with a numbered challenge coin demonstrating that you are a member of this exclusive club. Gold members receive the following benefits:
Limited edition numbered custom challenge coin.
Receive a 20 ounce pour for the price of any of our beers normally served as a 16 ounce pour. (This excludes high ABV and very limited edition beers, check with your server before ordering. We do have Gold Member snifters that are larger than regular snifters.)
10% off all Adventure Brewing merchandise.
$1 off each 64 ounce growler fill.
An invitation to the Adventure Brewing end of year party exclusively for Gold Members.
Special discounts to Adventure Brewing events.
First opportunity to purchase any special release bottles.
Due to Virginia ABC laws, all beer discounts end at 9:30 pm.
Adventure Brewing Pioneers Frequently Asked Questions
When can I join?
The Gold Membership Club is an annual membership and is based on a calendar year.
Is membership limited?
Yes, the gold level is limited and based on our capacity for the end of the year party. Once the number of slots are full we will not accept further members. Gold members will receive priority for the following year.
Why pay up front for a membership? Where does the money go?
We hope that the benefits of membership are enough incentive to join on their own. But as a growing brewery, we will use the membership fees to expand our capacity and bring you even more great beers.
Can I buy multiple Memberships?
You may however purchase one or more memberships as gifts. These memberships will be in the giftee's name. Giftees must be 21 years of age and will be asked to present a valid ID before being served.
Cancellation of Membership
Membership may not be cancelled or terminated by members for any reason. Adventure Brewing Co reserves the right to cancel and terminate a membership at any time and for any reason. Such reasons may include, but are not limited to, abuse of state or federal alcohol related laws, attempted shipments to minors, Gold members reselling special beer at retail establishments (regardless of whether the membership account is in the name of a retail establishment or an individual's name), or other reasons that Adventure Brewing Co may determine in its sole discretion. If Adventure Brewing Co cancels your membership, your sole recourse is limited to a refund of your initial fees minus the non-discounted retail value of any beers or merchandise included with your membership level that have not already been used.