Art at Adventure
We like to showcase local artists every month!
Judi Green is our featured artist at Adventure North for May! 
Judy Green will be the featured artist at Adventure Brewing North location during the month of May. The Art Opening is Sunday, May 1 from 12:00 pm til 2:00 pm. Judy is a local artist that paints with oils and acrylics and has a variety of themes of interest such as landscapes, still life settings and local scenery. Some of her paintings are always on display at Adventure Brewing North such as Snowshoe and Black Sail. Judy's work is also shown at Art First Gallery 824 Caroline Street, Fredericksburg.  Please join us to see new paintings on May 1 at Adventure! There will be signed prints available for sale only that day, as well along with new work.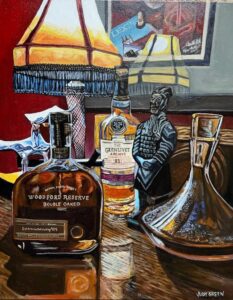 ---
Denise Smith is the featured artist at Adventure Eagle Village for May!
Opening will be Friday May 6 @6-8pm.
Long time friend of Adventure Brewing Company, Denise Davis Smith will be showing photographs from her most recent adventures. While majoring in Horsemanship, she studied photography at Virginia Intermont College. Lately, she's been a proud member of "The Adventure Club" which meets at the Eagle Village location every Tuesday at 7:00 pm. The club is all about taking on new and challenging adventures which is the idea on which Adventure Brewing was founded. So far, activities have included hiking, backpacking, kayak camping, horseback riding, sky diving, a Primus concert… and most recently, scuba lessons, hiking "The Rollercoaster" section of the Appalachian Trail, The Lost Symbol tour of DC, The 5 Boros Bike Tour of NYC, and this year's challenge of section hiking the AT through Shenandoah National Park! On top of all of this, she is starting a new endeavor of building a community space on 55 acres of field and forest land on 610 in Garrisonville! Please enjoy the show and reach out with any questions or comments.